Deluxe Gazebo, 3x4 m

,

Paramondo

Article available
3x4 Deluxe Gazebo
[Delivery Cost Label] [Delivery cost] £
[Delivery Time Label] [Delivery Time]
With your comfort in mind
GAZEBO DELUXE
Anthracite strong reinforced steel structure
Has six legs and covers 3 x 4 m
Max. internal height: 2.7 m
Roof cover: 230 g/m 2polyester roof cover
Cover fabric: 140 g/m2 polyester curtain fabric
Weather-resistant fabric
Awning to allow air to circulation
Very easy assembly
The tent can be completely closed with the curtains (when choosing this type of arbour)




Construction details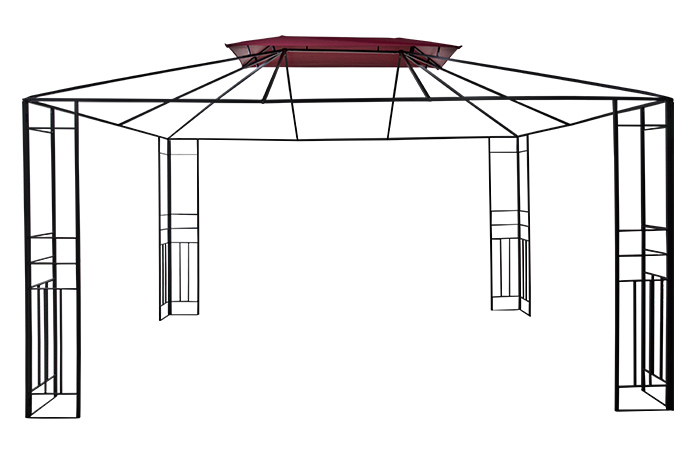 To enjoy a beautiful and atmospheric moment, a gazebo is a must-have for your garden. This effortless shelter offers a 12m2 of the rain-free area at a height of 2.7 m. Very stable steel structure, corrosion-resistant makes a gazebo perfectly suited for all year outdoor use.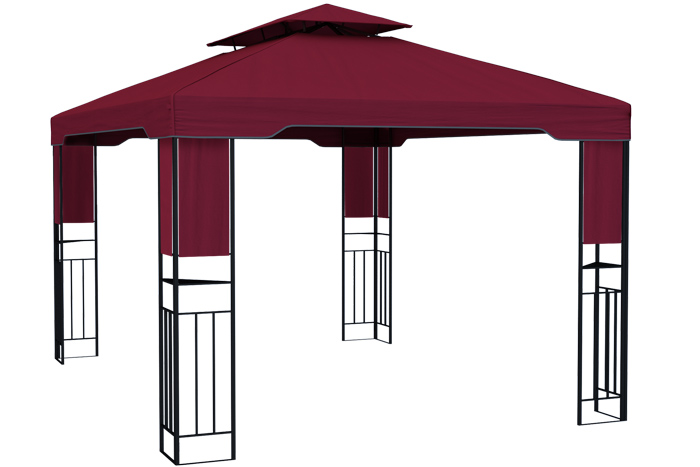 Tool free mounting system and collapsible structure make the gazebo easy to set up near the pool, on the terrace or in the middle of your lawn. Water repellent polyester thick canvas made of 230 g/m2 is a roof cover that everyone deserves during summer rains. Out of concern for your well-being, Deluxe canopy tent is also equipped with a cover that allows air circulation while avoiding the wind.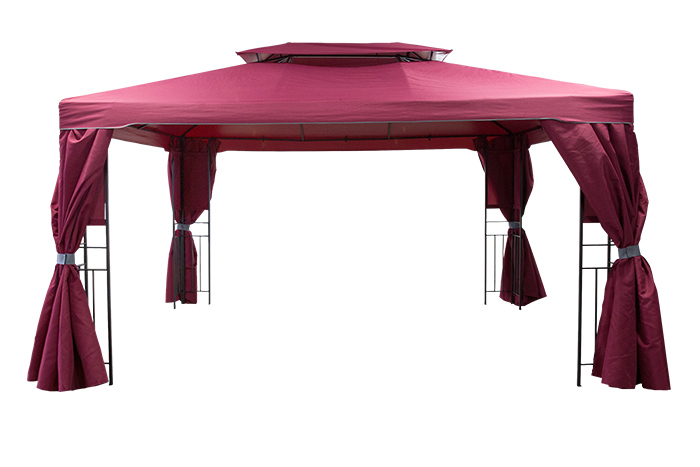 This gazebo is accompanied by waterproof easy to maintain polyester curtains of 140 g/m2. Available in three colours to harmoniously adapt to your outdoor space. You can choose to close the curtains of the canopy with a zipper and create a relaxing area or outdoor dining area effectively protected from the wind and unwanted glances.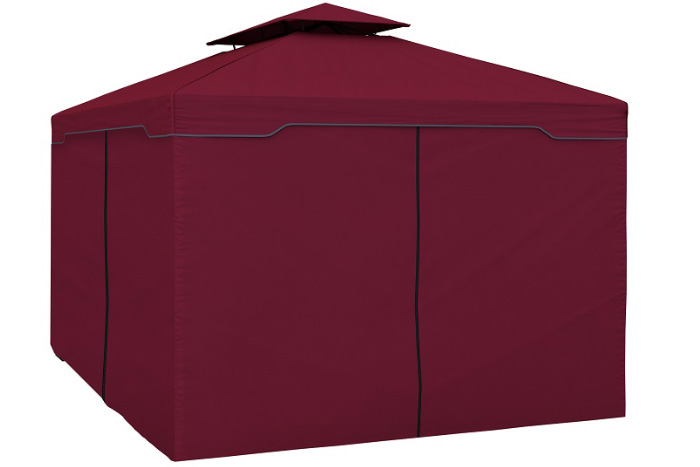 You can also equip your arbour with curtains made of mosquito net fabric that will be an impassable barrier for all flying insects. Gazebo mosquito wall will allow you to refresh your canopy room in the summer without being eaten by mosquitoes or attacked by wasps. Relax in peace while enjoying the fresh air.
Technical details
Quality:
Basic
Dimensions (L x W x H)
400 x 300 x 270 cm
The height of the passageway:
200 cm
Double roof:

Big roof: 395 x 295 cm, weight 4.0 kg
A small roof: 192 x 93 cm, weight 0.5 kg

Sidewall fabric
140 g/m² Polyester
Roof fabric
230 g/m² Polyester with PVC coating
Frames:
4 x steel profile: 198 x 34 cm
Steel anchors:
12 pieces
Lashings:
4 pieces
Weight:
33,5 kg
Guarantee:
2 years
Article add to your cart
Deluxe Gazebo, 3x4 m
SKU

SW10546

Price:
Number of articles in cart:
Cart total: