SKU:
10050063
|
EAN:
4250558202623
Handheld Transmitter, 4-Channel with timer, TDRCT 04
---
Article characteristic:
- Możliwość sterowania maks. 4 napędami- Możliwość zaprogramowania czasu podnoszenia i opuszczania rolety- Możliwość ustawienia trybu tygodniowego oraz weekendowego- Bezpieczna technologia zmiennego kodu- Wysokiej jakości, błys
Funkcjonalny
4-kanałowy pilot zdalnego sterowania Jarolift TDRCT 04 może obsługiwać nawet cztery napędy jednocześnie. Technologia oparta na zmiennym kodzie chroni przed dostępem osób nieuprawnionych. Pilot posiada 4 pozycje programowe dla jednego początku i jednego czasu końcowego. Każdej z tych pozycji programu można przypisać określony kanał lub wszystkie 4 kanały. Możliwe jest również uaktywnienie pozycji programu tylko na jeden dzień tygodnia lub na tydzień. Przykładowe opcje:
Ograniczony tydzień pracy: poniedziałek - piątek
Cały tydzień roboczy: poniedziałek - sobota
Cały tydzień: poniedziałek - niedziela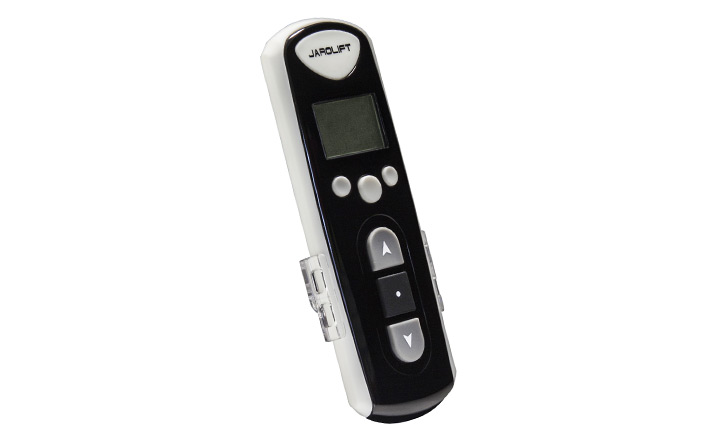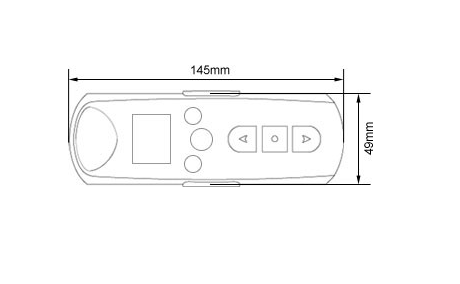 Prosty w obsłudze
TDRCT 04 posiada również jedną grupę i jedną kontrolę. W przypadku pojedynczego sterowania aktywny kanał jest zaznaczony na pasku kanałów u dołu wyświetlacza. Klawisz wyboru kanału może być również użyty do zaznaczenia wszystkich 4 kanałów, a tym samym obsługiwania ich jednocześnie. Dzięki TDRCT 04 możliwe jest zaprogramowanie każdego z czterech kanałów w dowolnej ilości silników i odbiorników radiowych w tym samym czasie. Następnie przesuwają się one jednocześnie, gdy kanał ten jest włączony i naciśnięte zostają klawisze góra, zatrzymanie i dół lub gdy ustawiony jest czas. TDRCT 04 jest dostarczany z pięknie zaprojektowanym uchwytem ściennym. Bateria do pracy z urządzeniem TDRCT 04 jest dołączona do zestawu i jest już włożona do urządzenia po dostarczeniu. W celu wymiany baterii można łatwo otworzyć nadajnik za pomocą śrub znajdujących się z tyłu.
Package content
1 x 4-kanałowy ręczny pilot zdalnego sterowania z timerem TDRCT 04, Jarolift
1 x uchwyt ścienny
1 x bateria 3V CR2430
1 x instrukcja
Technical details
| | |
| --- | --- |
| Manufacturer | Jarolift |
| Product name | Handheld Transmitter, 4-Channel with timer, TDRCT 04 |
| Product number | 10050063 |
| EAN | 4250558202623 |
| Jakość: | Basic |
| Pobór mocy w stanie gotowości: | 3 W |
| Stopień ochrony: | IP 30 |
| Dop. temperatura otoczenia: | -20°C do +60°C |
| Kodowanie radiowe: | Kod zmienny |
| Częstotliwość nadawania: | 433,92 MHz |
| Kompatybilność: | Kompatybilny ze wszystkimi nadajnikami radiowymi TDR od daty produkcji 03/2010 |
| Obudowa: | Wysokiej jakości tworzywo sztuczne |
| Gwarancja: | 2 lata |
Article add to your cart
Handheld Transmitter, 4-Channel with timer, TDRCT 04
SKU

10050063

|

EAN

4250558202623

Price per unit: £24.99
Quantity:
Price:
Number of articles in cart:

Cart total:
Uwaga! Zamówienie większej ilości produktu o tych parametrach jest niemożliwe z powodu niskiego stanu magazynowego. Przepraszamy za utrudnienia.