SKU:
10050064
|
EAN:
4250558202630
Wall-mounted Transmitter, 1-Channel
---
Article characteristic:
- Pilot naścienny z możliwością ustawiania punktów krańcowych w pilotach Jarolift TDEF- Naścienny uchwyt przykręcany lub przyklejany- Wyjątkowo smukła konstrukcja- Zasilany za pomocą baterii- Gwarancja producenta: 2 lat
Funkcjonalny
Zgrabny i prosty w użyciu pilot naścienny do sterowania odbiornikiem radiowym firmy Jarolift. Nadajnik posiada możliwość obsługi tylko jednego kanału, na którym może być zaprogramowana nieograniczona liczba odbiorników, która będzie obsługiwania jednocześnie. Na panelu przełącznika znajduje się kontrolka LED, która oznacza połączenie z odbiornikiem i przekazywanie sygnału. Służy także do wskazania poziomu baterii. Trzy, duże i wygodne przyciski umożliwiają łatwą obsługę nadajnika oraz sterowanie odbiornikiem góra, zatrzymanie i dół. Pilot służy także do ustalenia krańcówek pracy silnika.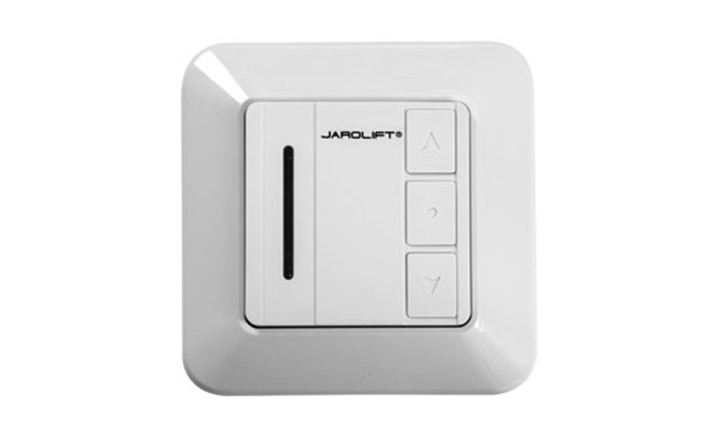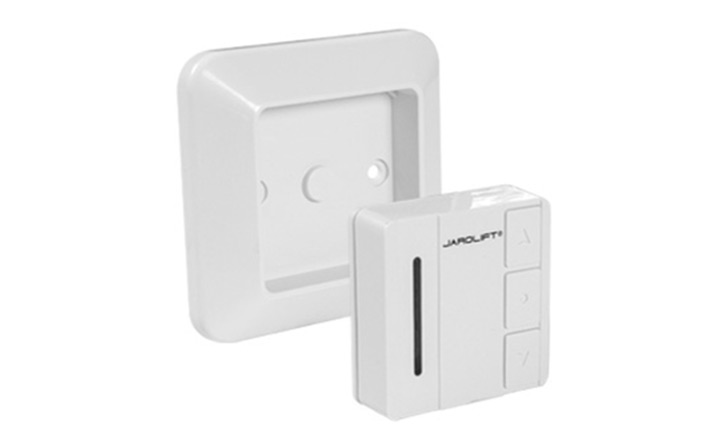 Prosty w obsłudze
Pilot składa się z dwóch części: ramy zewnętrznej, montowanej do ściany, która służy na uchwyt oraz nadajnika, który wkładany jest w ramę. Dodatkowo zabezpieczony jest także magnesem, dzięki któremu nadajnik nie spada ze ściany. Bateria dołączona jest do zestawu, a jej wymiana jest szybka i prosta. Wystarczy wyjąć nadajnik z ramy i odwrócić.
Package content
1 x Naścienny pilot zdalnego sterowania Jarolift TDRC01 W
1 x uchwyt ścienny
1 x bateria 3V CR2430
1 x instrukcja montażu / obsługi
Technical details
| | |
| --- | --- |
| Manufacturer | Jarolift |
| Product name | Wall-mounted Transmitter, 1-Channel |
| Product number | 10050064 |
| EAN | 4250558202630 |
| Jakość: | Basic |
| Pobór mocy w stanie gotowości: | 3 W |
| Stopień ochrony: | IP 30 |
| Dop. temperatura otoczenia: | -20°C do +60°C |
| Kodowanie radiowe: | Kod zmienny |
| Częstotliwość nadawania: | 433,92 MHz |
| Kompatybilność: | Kompatybilny ze wszystkimi nadajnikami radiowymi TDR od daty produkcji 03/2010 |
| Obudowa: | Wysokiej jakości tworzywo sztuczne |
| Gwarancja: | 2 lata |
Article add to your cart
Wall-mounted Transmitter, 1-Channel
SKU

10050064

|

EAN

4250558202630

Price per unit: £23.99
Quantity:
Price:
Number of articles in cart:

Cart total:
Uwaga! Zamówienie większej ilości produktu o tych parametrach jest niemożliwe z powodu niskiego stanu magazynowego. Przepraszamy za utrudnienia.