Max Hinged Door Fly Screen

,

Sagio

Article available
Max Hinged Door Fly Screen
[Delivery Cost Label] [Delivery cost] £
[Delivery Time Label] [Delivery Time]
Mosquito net made of insensitive to weather and corrosion material
High-strength, powder-coated extruded aluminium profiles
Flexible, rotproof and resistant fabric against wear and tear caused by daily handling
The very robust fabric of fine square meshes
The PVC seal located from the inside of the door ensuring an aesthetic appearance and an impeccable finish
The profile equipped with brush seals ensuring fabric water-tightness
Fits into any door whether made of PVC, aluminium or wood
The net structure allows looking through the fabric
The mosquito net is the most economical and practical way to get rid of mosquitoes at home
Designed to stay in place all year round
Maintains good air circulation
4 types of fabric for different needs (standard, reinforced, anti-pollen and anti-pollution)
The mesh should lie freely on the frame of the mosquito net before is pressed in so as get too tight
All our nets are securely packaged to ensure that they remain in perfect condition during transport and reach you intact.
Mosquito mesh is delivered as separate elements to be assembled by yourself. Installation is carried out in a few simple steps, detailed in our supplied installation guide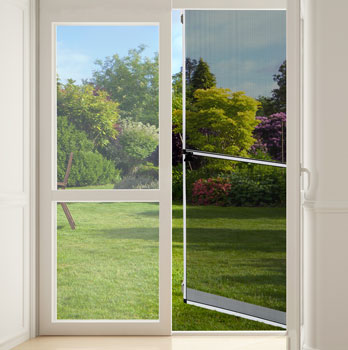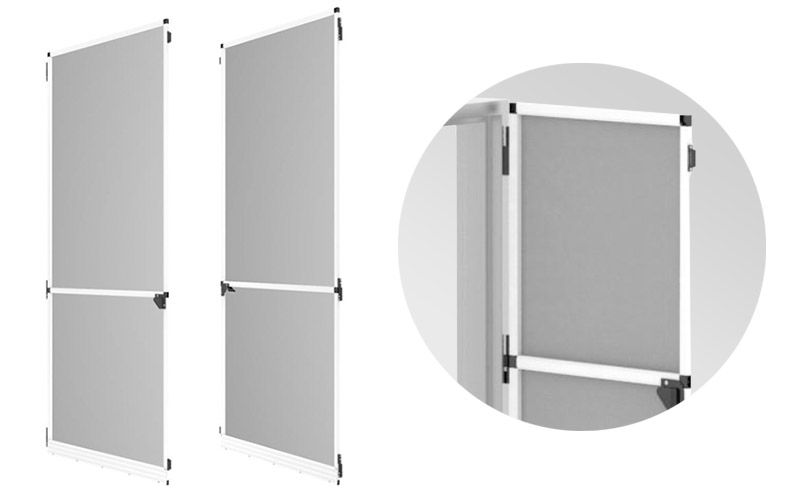 Shield of your comfort
The very robust mosquito net will stop the majority of flying or crawling insects naturally without requiring the use of toxic products. Simply by physically preventing them from approaching you. Stretched between the frame like a guitar string, insect mesh does not sag or break. It stands out for its robustness which makes it a product that will hold in the long run without losing efficiency. Very discreet and functional door mesh will allow you to enjoy the outside air while maintaining a vision to the outside. This is a perfect solution for balconies, terraces or outings to the garden. Installed outdoors, the product has to cope with different weather adversities. So, the frame of our mosquito net is made of cold pressed, extruded aluminium which guarantees its greater durability. It is resistant to deterioration , remains stable during installation and will do its job for many seasons. The frame is available in 4 basic colours, as well as in shades from the RAL palette to perfectly fit your facade. The mosquito nets are made to measure to perfectly fit your entrance. The frame, regardless of the overall size of the product, will be 1.37 cm thick and 2.36 cm wide . These dimensions allow for more comfortable installation and ensure smooth operation . The custom-made folding screen door is protected from passaging any type of insects, both flying and crawling. Spiders, lizards, and mosquitoes will no longer bother you with their unannounced visits!
4 types of mesh
Did you know that, in addition to protection against insects, mosquito nets can also fulfil other functions? For our custom hinged door fly screen we offer 4 types of fabric:
Standard mesh (weight 120 g / m2, thickness 0.35 mm)
Made of fibreglass covered with PVC, it will protect you against insects effectively. Available in grey and black.
Reinforced mesh (grammage 365 g / m2, thickness 0.635 mm)
Perfect for animal owners, it won't let your pet fall or fly out the window. Thanks to its sturdy structure, it is resistant to bites and scratches. Made of PVC.
Anti-pollen mesh (52 g / m2 grammage, 0.22 mm thickness)
If you are allergic, we suggest this fabric made of polyester that filters the particles suspended in the air and, in this way, will protect your respiratory system. At the same time it will stop the dust particles that circulate in the air and will keep your house clean.
Anti-smog ( 170 g / m2 grammage, thickness 0.48 mm)
For even higher protection against pollution, choose this fabric. Thanks to the nanofiber membrane covered on both sides with a layer of fabric, it will not let pollens, mites, microorganisms, dust or exhaust gases enter your home.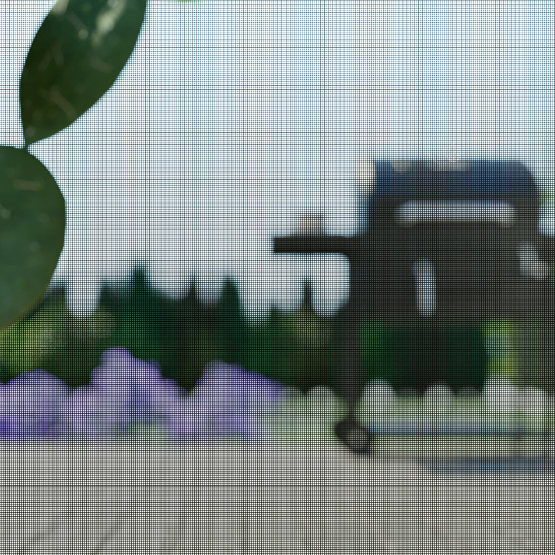 Technical details
| | |
| --- | --- |
| Manufacturer | Sagio |
| Product name | Max Hinged Door Fly Screen |
| Product number | SW10565 |
| Warranty: | 5 years |
Article add to your cart
Max Hinged Door Fly Screen
SKU

SW10565

Price:
Number of articles in cart:
Cart total: